FISH SCREEN - HEROES OF FISH CONSERVATION
Why Use Fish Screens?
In agricultural irrigation, industrial cooling water, and urban water intake projects, it is necessary to go to rivers and lakes or other water sources that meet the requirements. At this time, a problem will arise:
There are a large number of fish in rivers and lakes, among which there may be some rare species. Many of the lovely creatures in these rivers are displaced and migrate in freshwater and oceans.
When they swim to the broad ocean or return to rivers and lakes from the ocean, they are easily trapped by intakes or even die. This has seriously affected the ecology.
Rivers belong to us as well as to living creatures in the water. Fish Screen produced by ZHEHAN solves this problem well.
Services (Fish Screens) Provided By Zhehan
1. Customization Of All Types Of Fish Screens ( Wedge Wire Type Fish Screens Is Our Superior Product)
2. Product Design - Drawing Service, Plane Drawing, 3d Drawing
3. Technical Guidance for Product Maintenance
4. Lifelong After-Sales Service
Fish Screen Types
1. Horizontal Screens
2. Vertical Fixed Plate Screen
3. Passive Water Intake Screen
- No mechanical moving parts
- Not limited by installation location
- Easy maintenance
4. Half-barrel Passive Water Intake Screen
Application in the shallow water area
5. Rotary Fish Screen
- Stainless steel 304
- No need to provide power
- Self-cleaning ability
- Simple installation
- Sixty-five to eighty-five percent of the fish screen should be below the water level
6. Inclined Screen
7. Side Hill Screen
8. Conical Fish Screens
- It is very suitable for shallow water application.
- Strong self-cleaning ability
- Influences on water flow are minimal.
9. Coanda Screen
- Simple installation
- Low maintenance cost
- No mechanical moving parts
As the largest manufacturer of stainless steel filtration and separation products in China, we have the ability to provide customized services for global customers.
Notes For Fish Screens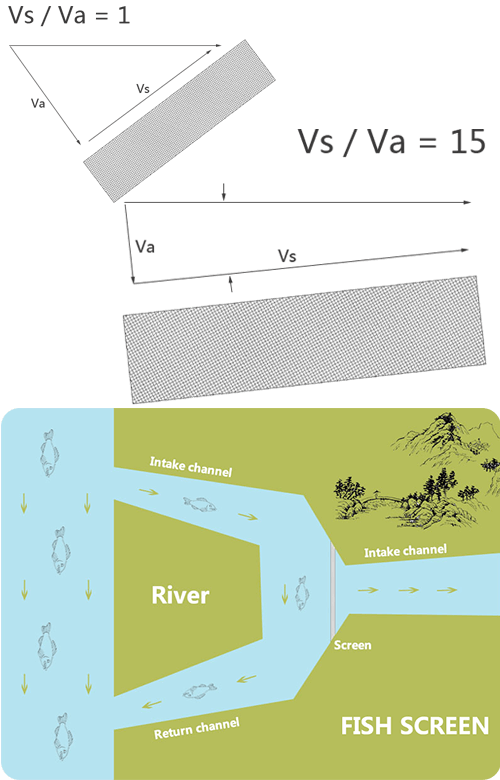 1. Mesh (Johnson net corresponds to gap size)
The key parameter is to communicate the gap size of the Johnson screen with the supplier when customizing.
2. Approach velocity.
- Speed slowly enough for fish to escape. Less than the sustained swimming capability of fish
- When fish come into contact with the fish screen, there is a certain probability that they will die. The decisive parameter affecting the mortality rate is the approach velocity.
3. Sweep velocity
Fish must be able to be brought out of the screen area.
4. Bypass.
"Fish Special Channel"
5. Effectiveness of screening scope
6. Screen openings are small and smooth (no harm to fish).
7. Installation location
Away from fish-intensive areas
Far from fish migration routes
Away from areas that attract fish to spawn
8. Practicability of structure
9. Maintenance cost, cleaning cost
10. Regular inspection
Why Choose ZHEHAN Fish Screens
1. Production experience
From our product structure, you will find that our most advantageous product is Johnson screen. We are the largest manufacturer of Johnson screen in North China.
Johnson screen is the core component of the fish screen. Its quality directly affects the service life of the fish screen.
2. Advanced production equipment
- Intelligent Robot Welding Equipment
Among the fish screen and filtration and separation manufacturers in China, we are the only one to introduce intelligent welding equipment. Its advantages are:
1) High welding efficiency
2) Beautiful appearance
3) Neat weld bead
4) High quality
Especially for Passive Water Intake Fish Screens, there are many places to be welded. Intelligent welding equipment can make our products more advantageous.
- Johnson screen equipment
We imported advanced Johnson screen production equipment from Germany in 2005. Through more than ten years of production and sales, we have upgraded and replaced the existing equipment based on the needs of the market.
- Molybdenum Wire Cutting Equipment
3. Technical support
Providing Professional Technical Service to Customers
Providing Drawing Service for Customers.
4. Perfect Quality Inspection System
Quality supervision department is totally independent, from raw material detection to finished product inspection, each link has its own person in charge.
5. Patent cleaning process
After two years of hard work, our technical team has successfully developed a special cleaning process.
Usually, after cleaning, the metal products have a bright appearance and look beautiful, which improves the product grade. In addition to this feature, after our cleaning process, we can also improve the corrosion resistance of products by more than 40%.
Therefore, compared with other suppliers, our fish screen has a service life of more than 40 percent.
Fish Screens Is Our Core Product. We Have Independent Professional Quality Inspectors.
IQC
We have wire drawing equipment and V-wire pressing equipment, so we only need to buy wire rods.
Our IQC is the first quality control barrier before production.
IPQC
The inspection method we adopt is to inspect each process in the production process on a round trip.
Our director of fish screens production workshop will assist in this part of the quality inspection work.
FQC
Test items include:
- Appearance Inspection (gloss, roughness, brim, scratch or not)
- V-Shaped wire, Gap, Dimension Detection
-Performance Testing
Perform a comprehensive and final inspection and test to ensure that the product meets the delivery specifications and customer requirements.
OQC
Test items include:
- Quality Restriction
- Packaging Status
- Anti-Collision Material
- Product Identification/Safety Labeling
- Product Performance Testing Report
- Outer Case Label
Make a comprehensive check and confirmation to ensure that the customer receives the goods in accordance with the agreed content and delivers the goods in a fully up-to-standard manner.