The wedge wire filter is a metal filter element made of wedge wire screen. It is welded by V shape wire and supporting rod. Due to its unique structure, in addition to all the characteristics of the metal filter, the biggest advantage is not blocked, low-pressure drop. The following is a detailed introduction to our products.
Wedge wire filter types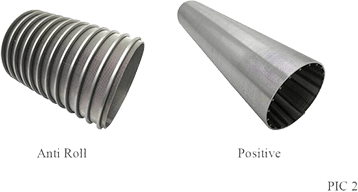 Positive and Anti Roll
Many devices need to assemble the anti-roll wedge wire filter. It has one more process than the positive type.
Anti-roll type has a technical problem, that's filtering accuracy. Now, most manufacturers in the market can only produce about 100 microns, after years of hard work, our technical department has overcome this problem, and now we can produce products with a filtering accuracy of 20 microns for the anti-roll type.
This can fully meet all the use environment.
Wedge wire filter characteristic
☛ Not easy to clog
☛ high strength.
☛ high precision.
☛ high open area.
☛ low-pressure loss.
☛ Self-cleaning.
☛ Long service life.
☛ Perfect roundness
Please see the picture below. If you use a wedge wire screen often, you will be familiar with the diagram below, the products made by many manufacturers are the first ones, not a high precision circle. Perfect roundness has better performance and can be self-cleaning.
Compared with other metal filters, its obvious advantages embodied in non-blockage and low-pressure drop. It has brought us great convenience in use.
Stainless steel wire mesh pleated filter element can also be self-cleaning, but some high-precision mesh filter, easily clogged with impurities, sometimes we have to replace it. So if your filtering accuracy is above 20 microns, the filter area is not very high demand, this product is a good choice, and in general, its service life is longer than that of a pleated or sintered filter made of stainless steel woven mesh.
Wedge wire filter application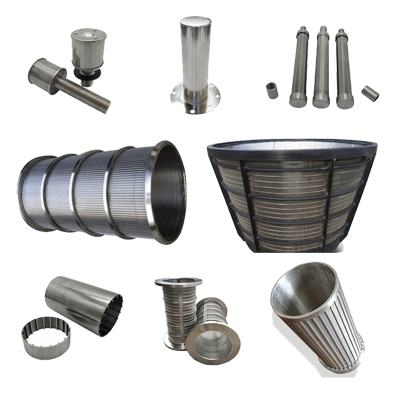 Common applications include
☛ Wedge pipe for filtration
☛ Wedge basket
☛ Filter nozzle for water treatment
☛ Resin traps
☛ Water well screen
☛ Rotary screen for sugar factory and chemical plant
☛ Vibrating sifters
☛ Drum screen (Manure Separator)
◐ Packing?
a. With a plastic film winding and then packed in wooden cases
b. According to your requirement.
◐ After-sale service.
If you are working with us for the first time, you may have questions about product quality, when buying in large quantities, you will definitely worry about product quality problems. Don't worry, we have a sound quality management system, and if there is a quality problem with the goods you receive, you only need to provide a batch of the product, we will exchange the goods for you in the first time.
◐ I do not find any products that I want on your website. Can it be customized?
We have a strong technical team, you only need to provide drawings or samples we will provide you with satisfactory products.