Jun. 25, 2019
In 1996, Mason Zhang independently produced the first batch of Johnson screen products and created the ZHEHAN® brand. After 20 years of efforts, ZHEHAN has become the largest manufacturer of Johnson screens in North China and has received high recognition from global customers.
Johnson passive water intake screens are widely used in municipal and industrial water intake, which plays a great role in protecting fish in rivers.
ZHEHAN is the largest export manufacturer of intake screens in North China. We provide professional customized services for global customers.
Advantage of Johnson Intake Screens
1. V-shaped wire, not easily blocked easy, to clean and low maintenance cost, low-pressure drop(PIC 1)
2. No moving parts
3. The installation location is not limited
4. Corrosion resistance(After our special cleaning equipment, the corrosion ability can be increased by more than 30%)

ZHEHAN Brand Intake Screen
If you look for Johnson intake screens from China, you will find that there are too few real manufacturers, why?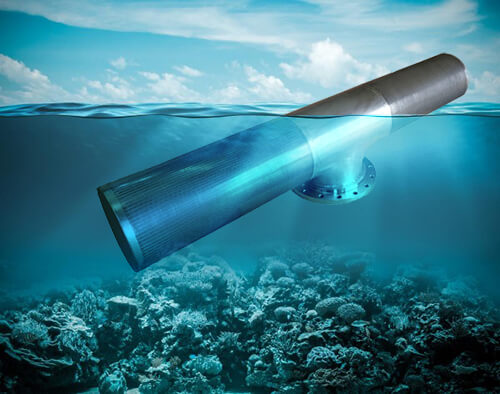 1. The main part of intake screens is Johnson screen, it is a stainless steel material for metal filtration and separation products. Manufacturers are mainly concentrated in North China, but few of these manufacturers have Johnson intake screens production experience.
2. Limitation of production equipment. An advanced Johnson screens production facility costs more than $100,000, and most manufacturers will choose cheaper ones(the diameter of Johnson drum screen is limited).
3. Production experience. Intake screen is rarely used in China, so there are few manufacturers with relevant production experience.
In 2004 - ZHEHAN began customizing intake screen products for foreign countries.
In 2013 - We independently developed four of the most advanced Johnson intake screens production equipment.
In 2016 - We independently developed a special cleaning process. After our specialist cleaning equipment, the corrosion ability can be increased by more than 30%.
In 2017 - ZHEHAN has become China's largest exporter of Johnson intake screens.
The following are some considerations for river water intake projects
Understanding The Variation Of Erosion And Sediment In River Channel
Water intake of rivers is greatly affected by natural conditions and environmental impact. It is necessary to fully understand the characteristics of river runoff and select the river intake section according to local conditions.
Flow and water level of rivers are affected by season. Flood and dry water vary greatly. In winter, ice conditions can from bottom ice and ice debris, which can easily cause blockage of intake. In order to ensure the safety of intake, careful investigation and repeated demonstration are necessary.
Under the action of water flow, the change of plane form and cross-section form occurs continuously, which is commonly called river course evolution.
Channel evolution is the result of the development of river flow and sediment movement. Sometimes sediment may be suspended by turbulent flow to form suspended sediment. Sometimes it may also sink to the river bed due to the change of flow conditions, and move on the river bed to become bedload sediment.
When the carrying capacity of the current is smaller, bed load or suspended sediment can also be deposited on the river bed to become bed sediment. In rivers, the process of alternating change of suspended load, bed load and bed sediment in the process of channel scouring and silting.
Evolution of scouring and silting often results in the swing of the mainstream and the intake outlet is out of the flow and unable to fetch water.
Reasonable Selection of Water Intake Structure Location
In plain type, especially in sandy plain type, water intake structures are often threatened by changes of the riverbed and mainstream runoff.
Many intakes are silted up and abandoned due to the inadequate prediction of river bed changes.
Therefore, in the practice of water supply projects, reasonable selection of intake structure location should not only follow the general principles listed in design specifications and design manuals, but also combine the sediment movement law and river evolution characteristics of intake reach, make comprehensive analysis and judgment from flood and dry change, river course direction, erosion and siltation situation and geology and geomorphology, if necessary, through hydraulic model experiments. Final determination.
Data to be collected for selecting the location of intake structures
The location selection of intake structures is based on the full analysis of hydrological conditions, river regime changes, river facies conditions, and engineering geological data.
Therefore, a large amount of relevant information must be collected and occupied on the basis of on-site investigation. Generally speaking, the information to be collected includes the following aspects:
Hydrological data
Flood and low water levels, corresponding discharge and sediment content in past years.
Relevant flow, water level and water and sediment process data under flood, middle water, low water and P = 1%, P = 50% P = 75% and P = 99% guarantee rate.
Daily average sediment concentration and peak process data over the years
Sediment particle analysis and graduation data
The correlation curve of water level and discharge
Records of m-surface gradient in various discharge states (high, medium and low)
Water conservancy works near the reach (under construction and planning)
The influence of large-scale water conservancy facilities on the operation of rivers
Variations of water temperature and ice conditions over the years
Water quality analysis data of flood and low water levels over the years. Relevant information
2) River facies data
(1) Water depth, River width, gradient, and longitudinal slope
(2) Flat discharge, corresponding water depth, and river width
(3) Longitudinal and transverse diagrams of the riverbed
(4) River regime change maps over the years and Zhonghong line change maps
(5) The River plan of the past years
_River bed plasmid meridians and their changes
_Records of river erosion and siltation changes and corresponding discharge and water level data.
3) Geological data
(1) Longitudinal section of river geology
(2) River geological cross-section
(3) There are bedrock outcrop or anti-scouring control points in the upper and lower reaches of the intake point about 1000m
4) Other information
(1) Water conservancy project planning and shipping planning of river reach
(2) Flood protection standards and application of flood control projects in cities and river sections
(3) River danger and engineering countermeasures
(4) Operation of nearby water intake projects.
If you need any other questions about the intake screens, you can leave a message on our website.