Cow dung drying machine is the equipment used in cattle farm. Its main function is to separate cow dung into the dry and wet state.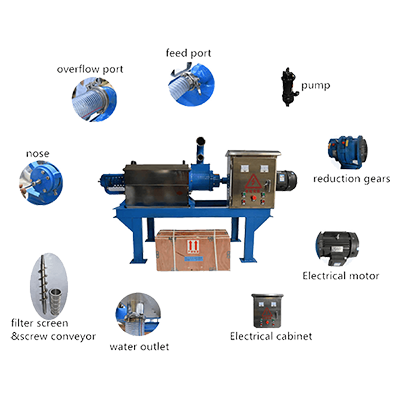 Cow dung drying machine working principle
1. The cow dung is sucked into the solid-liquid separation equipment by a pump.
2. Stainless steel spiral blades rotate, pushing cow dung forward
3. In the process mentioned above, the water branch of cow dung flows out of our V-shaped screen.
4. Stainless steel spiral blade through the forward extrusion, dehydrated cow dung will fall off, complete the entire treatment process.
The whole process can adjust the speed of discharging to meet the needs of customers.
Our Advantages of the cow dung drying machine
1. High work efficiency
2. Low price&Long service life
3. V - Shape screen
We have an independent V - Shape screen production workshop, it can guarantee the quality of products and customize products of different specifications for global customers.
4. Fast delivery time.
Cow dung drying machine processing capacity
For farm manure separators, different animal manure treatment capacities are different.
Cow dung = Pig dung > Duck manure > Chicken manure (Comparison in the same environment)
Sometimes even the same kind of manure, the processing power is different.
Therefore, it is necessary to determine the processing capability of the device according to the corresponding situation.
Cow dung drying machine system accessories
The following are our standard configurations, if you have other needs, please let us know.
Mainframe: 1 set
Filter screen: 1 set
Pump: 1 set
Electric motor: 2 set
Electrical cabinet: 1 set
Spiral conveyor: 1 set
ZHEHAN is the largest cow dung drying machine manufacturer in North China, we can provide customized processing services to customers around the world. If you are interested in our products, please feel free to ask us.