Hop spider, sometimes called homemade hop spider or homebrew hop spider. It can prevent hops from entering your kettle, using a hop spider will make our brewing process easier and more convenient.
I am a depth lover of homemade beer, I deeply understand that the cleaning of hop residue is very troublesome. There are many ways to solve this problem, the best way to do this is to use a stainless steel hop spider.
Products
ZH-SNOW-1

Hop screen: Stainless steel wire mesh
Size : 6 x 14 x7.5 (inch)
Filter accuracy: 300 um, 400 μm
Capacity: 230 g
Support customized
This is a frequently used one. We can see that it has two hooks, it can be fixed more firmly on your kettle, has strong stability.
ZH-SNOW-2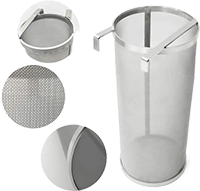 Hop screen: Stainless steel wire mesh
Size : 17.9 x 5.9 x 3.94 (inch)
Filter accuracy: 300 μm
Support customized
Unlike SNOW-1, it has only one hook. This product is characterized by a long hook, ideal for deeper kettles. It can keep the hop spider in a lower position in the boiling pot, avoid hops running out of boiling wort.
The length of this hook is customizable, We will provide you with the most suitable products.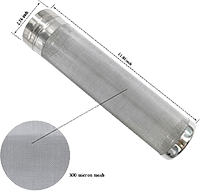 ZH-SNOW-3 (keg hop filter)

Hop screen: Stainless steel wire mesh
Size : 2.76 x 11.81 (inch)
Filter accuracy: 300 μm
Support customized
This is also what we often use. For ease of use, we added a chain at the top.
ZH-SNOW-4 (Beer brewing filter basket)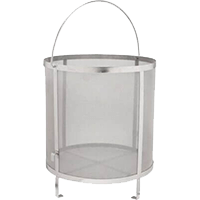 Hop screen: Stainless steel wire mesh
Size : 2.76 x 11.81 (inch)
Capacity: Customized
Filter accuracy: 400 um
Support customized
It is mainly used in the process of saccharification
Size selection
The dimensions of all models are customizable, and we should purchase products that are suitable for our equipment, as size also has an impact on utilization.
1. Diameter: The larger the diameter, the larger space, and the larger the water flow, which will increase the utilization of hops. The best size is about half the size of the kettle.
2. Height: It is best to choose a hop spider that stays 1-3 inches from the bottom of the kettle.
3. Micron: 400-micron hop spider is the most common, it is very suitable whole leaf hops. If you use pellet hops often, can choose 300 microns one.
Advantages and effects of the stainless brewing hop spider
1. Fitted hook design makes it suitable for any boil pot
2. Keep the beer clean
3. Avoid hops blocking for debris out of pumps, chillers, and finished beer.
4. Prevent hops entering the fermenting tank
5. Resistance to rust, corrosion, heat, and pressure
6. Can be washed repeatedly
7. The precision and size of the hop spider can be customized
8. Sturdy construction
9. Easy to store
10. Convenient feeding
Stainless hop spider vs hop bag
Stainless hop spider contrast hop bag has a huge advantage, in addition to the above points, nylon hop bag inevitably releases substances harmful to the body at high temperatures, and stainless steel hop spiders are easier to clean and disinfect(Cleaning and disinfecting hop spiders before brewing).
Some users think that nylon hop bag is cheaper, but hop bags need to be replaced frequently, SS hop spider can be washed repeatedly, for long-term use, Stainless steel is more economical.
So the stainless steel hop spider is the best choice.
Hop spider utilization
Many customers often discuss a problem with me, the hop spider works well and keeps the beer clean, but hops didn't make full use of it. Here is the problem of hop spider utilization.
I have to be honest, it is indeed like this, but this problem is solved by methods. The hop bag lost hop utilization is about 10%, stainless steel hop spider has more space and flow than a bag, so its utilization rate is higher than a hop bag. At the same time, we can also stir hops in the hop spider, this way we can minimize the lost hop utilization.
Through a lot of experiments and customer feedback, very effective through this method, don't need to add extra hops to compensate, and the IPA is plenty bitter.
Hop spider for sale
We provide customized processing services, many of the top sellers on Amazon are our customers. If you have enough order quantity, you will get a price that surprises you. So if you need best hop spider, come here!
We are a manufacturer of precision stainless steel filter element, the production process of Hop spider is very simple for us, we have a dedicated production workshop to produce it, can guarantee the quality of the product and the production speed.