The pleated filter is the most common product in the metal filter element, widely used in industrial production.
CHARACTERISTIC OF PLEATED FILTER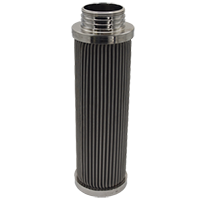 1. Fold structure, large filtration area
2. Low resistance and low-pressure difference
3. Strong pollution capacity
4. High-temperature resistance and corrosion resistance
5. Easy to clean and can be used repeatedly(Chemical cleaning, high temperature, and ultrasonic cleaning)
6. Stainless steel structure, strong structure
7. No material falls off phenomenon
In addition to these excellent characteristics, compared with other materials, stainless steel filter element will not produce harmful substances at high temperature.
PLEATED FILTER VS SINTERED FILTER VS WEDGE WIRE FILTER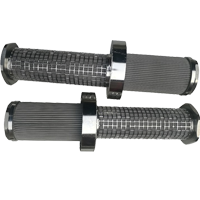 Common ground
They are all metal filter elements, have many similarities.
1. Sturdy structure
2. High-temperature resistance
3. Corrosion resistance
4. Pressure resistance
5. Easy to clean and can be used repeatedly.
Difference
Because of their differences in structure and processing technology, they all have their own advantages.
Pleated filter
Advantage:Folded structure, compared with the other two kinds of the filter cartridge, it has a larger filter area, so his ability to receive pollution is the strongest.
Shortcoming: Filtration accuracy is not as stable as the sintered filter, Although it can be cleaned, it is not as easy to clean as the other two filters.
Sintered filter
Advantage:Stable filtration accuracy.
The compressive strength is stronger than the pleated filter, can withstand the pressure of 0.3-0.7Mpa.
Metal powder sintered filter has better ability to capture fine particles.
Shortcoming: Small filtration area.
Wedge wire filter
Advantage:V type wire, not easy to clog.
The easiest to clean
Shortcoming: Small filtration area
The highest accuracy of filtration can only be up to 20 microns.
We should choose the right filter element according to the use environment.
PLEATED MEDIA DESIGN OF THE PLEATED FILTER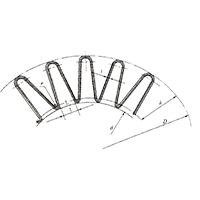 Pleated wave height
First of all, two dimensions should be confirmed: dimensions before folding and dimensions(outer circle) of the filter element after folding.
h = (D-d) / 2
h: pleated wave height
D: dimensions(outer circle) of the filter element after folding
d: dimensions(Inner circle) of the filter element after folding
The height of the pleated wave affects the filter area. The best height calculation method is:
h = D / 4
Number of pleated waves
As everyone knows, the larger the number of the pleated wave, the larger the filter area. The more quantity, the better?
Pleated wave height x Length(filter element) = Area of pleated wave / 2
If you want to increase the filter area, increase the pleated wave quantity, may increase filtration resistance. The best quantity formula is as follows.
N = πD / 2(t+r) + l
N: number of pleated waves
t: thickness of the filter layer
r: fold radius
t: pitch of the pleated wave
APPLICATION OF PLEATED FILTER
1. Water treatment
2. Petroleum, chemical industry
3. Pharmaceutical industry
4. Food, beer, and beverage
5. Machinery equipment
6. Electronics industry
7. High-temperature gas filtration
8. Steel plant
9. Ship