Aug. 31, 2018
The stainless screen filter is the most common metal filter element. It's also our main product. It is mainly used in petroleum, chemical, mining, medicine, machinery and water treatment industries.
Zhehan is an ss filter manufacturer, stainless screen filter is the biggest part. The following is a detailed introduction.
1. Stainless screen filter material
The most common ones are 304, 316, 316L, dual-phase steel and so on.
How to choose raw materials?
We should choose according to the environment of our filter element, besides, we should also consider the factors of cost performance.
For instance, if your filtering environment is not too corrosive, I recommend using the SS304 material, it can meet all your requirements. If your filter environment is corrosive to a certain extent, in order to extend the use time of the filter element, reduce the replacement cost of the filter element, SS316L(or 316) is very suitable.
If your filter element is used on a ship and the filtering environment is strongly corroded by sea water, the filter element protection equipment is also very important, I strongly recommend that you use dual-phase steel raw materials.
2. Stainless screen filter types.
the stainless screen filter is a filter element product made of wire mesh as raw material after folding or vacuum sintering. There are two main categories.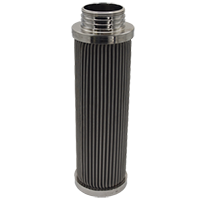 ☞ Pleated stainless screen filter
Technical parameter
A. Maximum working temperature: less than 500 degrees centigrade
B. Filtration accuracy: 1-200um
C. Working temperature: 0.1-30MPa
D. Size: Custom-made
E. Interface form: 222, 226, 215, M36, M28, M24, M22, M20 thread interface, etc.
Advantage
A. The stainless steel precision filter element has high porosity, good permeability, small resistance and low-pressure difference.
B. Large filtration area and a large amount of sewage.
C. High temperature resistant, corrosion resistant, suitable for filtration of high viscous liquids.
D. It has good regeneration performance and can be repeatedly used by chemical cleaning, high temperature, and ultrasonic cleaning.
E. All stainless steel structure with wide chemical compatibility.
☞ Sintered stainless screen filter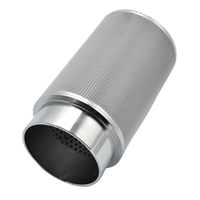 Characteristic
A. high strength: after five layers of wire mesh sintering, it has the extremely high mechanical strength and compressive strength.
B. high accuracy: the filtration granularity of 2-200um can play a uniform surface filtration performance.
C. heat resistance: it can be used for continuous filtration from -200 to 650 degrees.
D. cleanness: the surface filtration structure with excellent countercurrent cleaning effect is simple and easy to clean.
Applications
A. used as dispersing cooling material in the high-temperature environment.
B. for gas distribution, liquid bed material;
C. for high precision, high reliability, and high-temperature filtration materials.
D. for high-pressure backwash oil filter.
The pleated stainless screen filter not only can be used as the filter medium of basket filter and mesh filter but also has many excellent performances, such as high filtration precision, high-temperature resistance, corrosion resistance, high mechanical strength, easy processing and long service life, so it is more and more widely used in petroleum and petrochemical industry. In the field of separation of products and process media.
Here are some of our product introductions. If you have any other questions about this product, you can leave us a message.
Related reading
Determinants of steel filter price